Lip colors that complement your caramel skin beautifully include browns, reds, and nudes. We could go on for hours discussing different lipstick colors for women with dark skin. Dusky beauties have a sexy, glorious, and beautiful skin tone. However, enhancing it with makeup can be difficult. You must pay close attention to the makeup shades you use on your skin. And lipsticks can be the most difficult of all. That is why we have compiled a list of lipstick colors that look great on dark skin tones.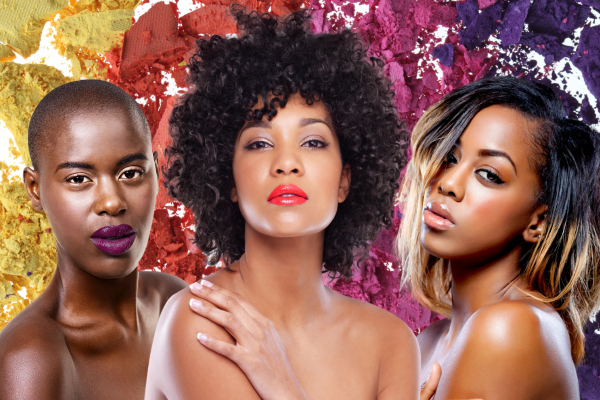 Lipstick Colors for Dark-Skinned Women
Keep in mind that earthy colors are your best friend! However, many other colors can complement dark skin. Try out these lip colors and prepare to rock the stage.
On dark women, copper brown looks very appealing and sultry. This complexion naturally blends different shades of copper brown. This color goes well with a wide range of dresses and events.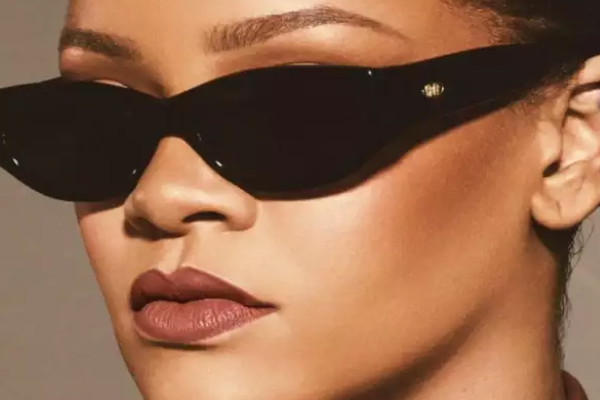 Red:
Red is a color that everyone loves. On darker women, it looks just as enticing, hot, and seductive. Fill in the red shade inside your lips with a matching lip liner. With a little glitter on top, you're ready to set some hearts ablaze! Red adds a lot of drama to dark skin's already striking features. Ignore your uncles and aunts and revel in the mystery of red lips.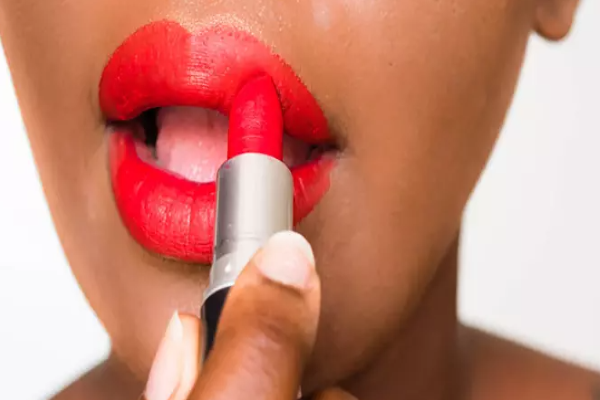 Yes, vibrant shades of rose are unique to your skin. Charm the world with slightly lighter and creamier coral pink/rose pink shades. Between the various shades of rose, you will find a variety to explore. With a variety of rose-pink lip shades, you can customize your street look and become the girl next door.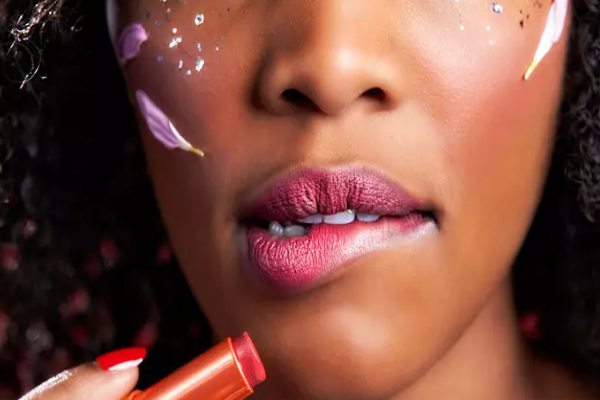 A woman with dark skin applies taupe lipstick in a close-up. If you have a deeper complexion, taupe will look great on you. This color is ideal for women with dark skin. The addition of glitter to the taupe sets the tone for the party for dark-skinned women.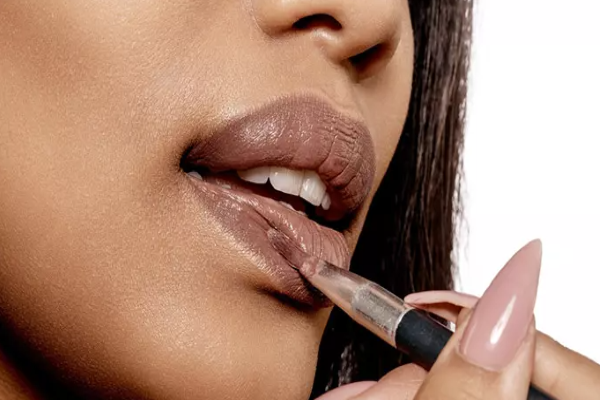 Don't get the colors rose pink and magenta mixed up. While rose pink is for the lighter and calmer shades of rose, magenta is for the louder ones. This color complements Asian dark, African-dark, and African-American dark skin tones.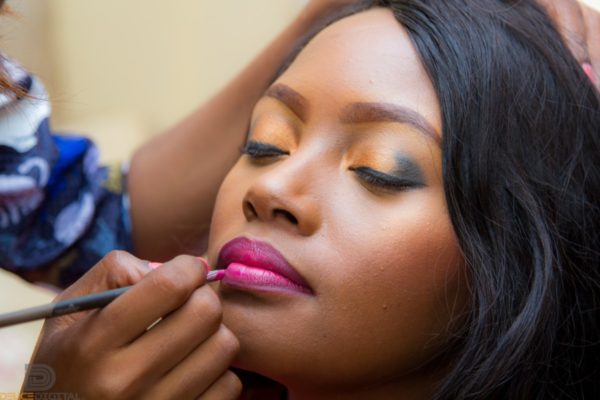 Are you still concerned about your fair skin and pink lips? Set your worries aside and give this amazing lipstick a try. You can experiment with all of the different shades of this color, from lightest to darkest. Dark skin looks mysterious with this lip color. Be a mysterious dark princess with spectacular fuchsia shades and astound the world.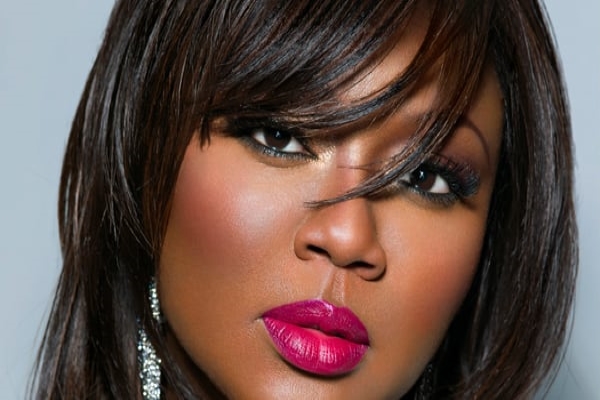 Chocolate brown is not the same as copper brown. Chocolate brown is deeper and darker than copper brown. It complements the dark skin tone and appears natural. If you want to go for a more understated look, try the chocolate brown shade on your lips. It appears to be trendy and sophisticated.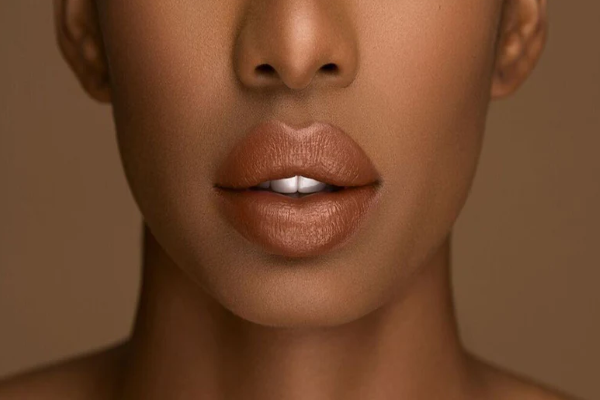 A woman with dark skin applies peach lipstick in a close-up. Just as natural pink has always been thought to be a color reserved for fair-skinned women, there is one color that is commonly used by dark-skinned women. It has a royal peach color to it. Peach goes well with every shade of dark. It is without a doubt one of the best lipstick colors for ladies with fair skin.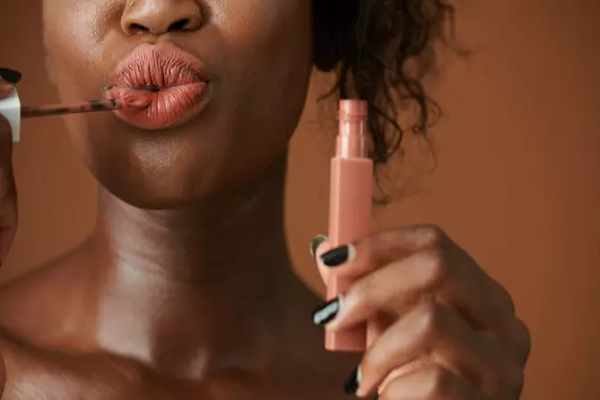 For women with dark skin tones, this metallic shade is a lifeline. It has an elegant appearance and is not overly loud. It appears enticing without appearing unnatural or overdone. Bronze can be worn during the day and also as an evening shade. For nights, however, it is still fun to stick to red, the party color.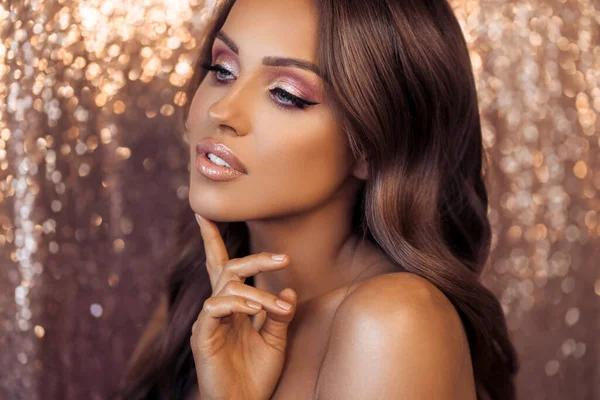 Nude:
A woman with dark skin applies nude lipstick in a close-up. Do you prefer soft, simple, and formal settings? Do you want a diva look without the loud makeup? Then you should go for nude! By combining bronze and nude, you can add a lot of drama, depth, and desire to your appearance. Line your lips in bronze and fill in the rest in nude.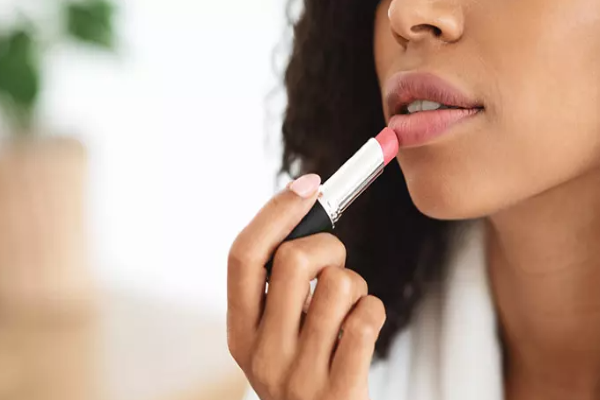 All of these colors are stunning. While fuchsia can help you be that mysterious lady, bronze will bring you a slew of compliments. So, without further ado, give your lips the attention and shine they deserve, and prepare to be a showstopper with this incredible range of lipstick colors for women with dark skin. Just remember to clean your lips before applying lipstick. Also, ensure that your lips are smooth. If necessary, gently scrub them before applying lipstick.